For each new person referred to Swagbucks.com, the referrer will earn 10% of the referral's earnings. The earnings eligible for the 10% referral program include the categories along the top menu bar: Shop, Search, Watch, Play, Answer, Discover. This includes everything found in the drop-down menus such as Daily Poll, Activities, Coupons, and Tasks. Every earn on a mobile app contributes too.
You will continue to earn 10% for as long as your referral is active on Swagbucks.com, with no maximum limit.
Categories that do not count towards your 10% earnings: Sign-up bonus, Courtesy Credit, Swag Codes, Daily Goal Bonuses, MyGiftCardsPlus Bonuses, any Referral Bonuses that your referral(s) may earn; and any others that may be added to this list.
Here's how to get you and your referral a 300 SB Bonus:
You and your referral get a 300 SB Bonus when your referral earns 300 SB within their first 30 days. For example, If your referral signs up on the 10th of July, your referral has until the 10th of August to earn 300 SB and qualify for the bonus. (THIS BONUS IS NOT AVAILABLE FOR ALL COUNTRIES)
FAQ
When will the 300 SB Bonuses be credited?
The 300 SB bonus will be applied to your account the day after your referral qualifies for the bonus.
Here's how you get the extra 100 SB
Be sure to use your Swagbutton URL when referring your friends to the site. Once they install the Swagbutton, you will be eligible for the extra 100 SB within 14 days. This is available through this link to the right of the page: http://www.swagbucks.com/invite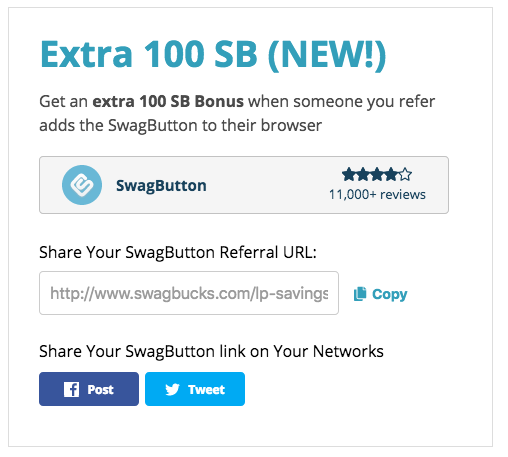 Using your referral link to send traffic from paid search ads, domain redirects, contextual tiles, pop unders, link injections, or other direct traffic link manipulations is expressly prohibited